There may be many reasons that you may not be able to receive incoming calls or texts. This article includes things to check to help troubleshoot incoming calls. This also applies to the Fongo World Edition app.
All Platforms
No Internet Connection
To use the Fongo Mobile app, you need a device with an internet connection. This can be from Wi-Fi or Cellular Data. We recommend having an internet speed of at least 2 Mbps to make or receive a call.
Out-Of-Date Version
Please check the app marketplace that you downloaded the app from for updates. We release monthly updates with bug fixes for issues that might prevent you from connecting to Fongo services. For more information: https://support.fongo.com/hc/en-us/articles/11458362648852-Fongo-Mobile-App-Deprecation-Schedule-
Basic Troubleshooting Settings
From the Side Menu:
Tap Account
Tap Settings
Under Troubleshooting try enabling or disabling each of these settings ONE at a time. Return them to the original setting if they do not fix your issue.

Alternate Fongo Connection - Fixes issues like the call screen locking up when trying to hang up, or calls do not properly connect when attempting to dial out. These issues are more common with WiFi connections than Cellular Data connections. These issues are related to SIP ALG (modem or routers blocking VOIP call traffic).
Allow IPv6 Connection - On by default, connect to the Fongo service using IPv6, when available. Enable this if you cannot connect to the Fongo service when connected to an IPv6 network.
Alternate DNS Resolver - use the alternate DNS resolver when connecting to the Fongo Service. Enable this if your provider's DNS server is too slow or the Connection Fails. This setting may not work on an IPv6 Connection.
New Account
New Fongo Mobile accounts require about 48 hours to activate. During this time, you may experience some issues such as the inability to receive or make calls, text messages, and purchase add-ons. It may take up to 4 days for the phone number to activate with all international carriers. 
Anonymous/Private/Unknown calls are blocked by default
We block anonymous calls by default to fight against telemarketing scams and fax spam. If you are not receiving calls from people you know, they may have their Caller ID set to anonymous/private. To correct the issue, please disable anonymous call blocking:
Tap Account
Tap Settings
Under Phone Service, tap Blocked Numbers
Disable Block Anonymous Calls
Call Forwarding Set Up Improperly
If you have set up Call Forwarding on your Fongo Mobile account, it may not be set up in an ideal manner. Change the Call Forwarding Mode to Simultaneous or None to allow Fongo Mobile to receive the incoming call first when someone calls.
Read more about Call Forwarding.
Wi-Fi Router is blocking VOIP Traffic
Your home's Wi-Fi router might be blocking calls from properly connecting (and hanging up).
There are two solutions:
in the Fongo Mobile app

in the side menu, tap Account
tap Settings
under the Troubleshooting section, enable Alternate Fongo Connection

log in to your Wi-Fi router's web page and disable SIP ALG setting.

Or,

enable port forwarding on ports 5060 UDP and 13000 UDP.
The Caller's Number Is Blocked
If you have blocked the caller's number in the app, you will not receive any incoming calls or texts from the number.
Read more about number blocking.
Calling From Same Device
If you are testing incoming calls to Fongo Mobile, you must call from a separate device. Using the mobile phone's built in phone app often outranks any incoming calls that Fongo Mobile receives.
Signed In On More Than One Device
If you are signed into your Fongo Mobile account on more than one device, you will not be able to receive calls properly. Please ensure that you are signed in on one device at a time.
'Do Not Disturb' or 'Focus' Mode Is Enabled
If your device supports a Do Not Disturb mode or "quiet time" mode, you may not be able to receive incoming calls. Disable either of these modes. Do Not Disturb buttons on Android and iOS devices look like: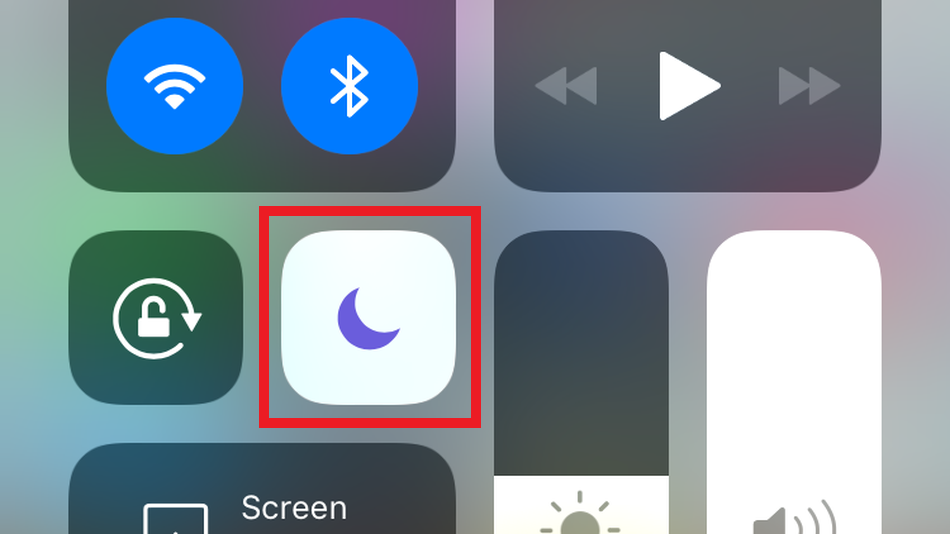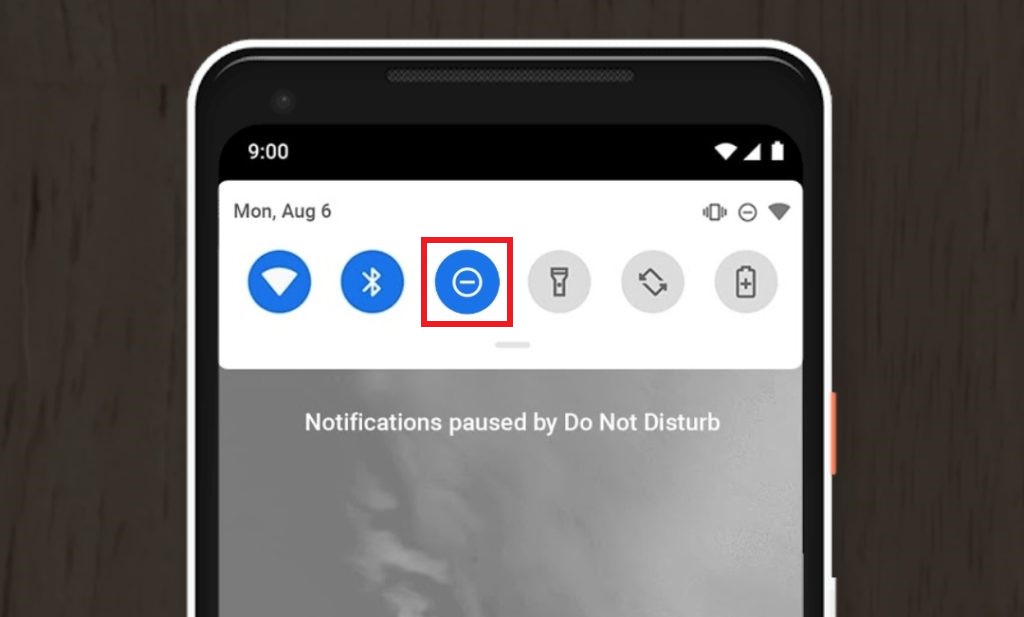 Device Is Silenced
You may be receiving incoming calls but cannot hear the ringtone. You may have silenced your device by either turning down all the notification sounds or by toggling the iOS silence switch.
On an iPhone switch the mute switch off on the side. If you see orange when you look at the switch it is on.
You can also turn up the volume on your device, launch the home screen and turn the volume up all the way.
Network Connection Issues
If you do not have a reliable connection to the internet, you may experience issues with the Fongo Mobile app. Reasons include:
Your internet provider blocks VoIP (Voice Over Internet Protocol). We are of aware that some countries outside of Canada may block the use of VOIP applications. You may need to bypass these restrictions by using a VPN service such as TunnelBear (free) or NordVPN.
For public Wi-Fi, you must often accept terms of service before you can use the internet. Launch a web browser of your choice to see if you can load a web page, like google.com.
Your speed or signal strength is insufficient. Try a speed test service like this one and ensure that your network speeds are above 1 Mbps upload and download.
Fongo services may be experiencing issues. Check our status page here.
You can test outgoing call stability by dialing 1-226-336-1437. You can also call 226-244-4444, which is an "echo test" number. Your own voice will be repeated back to you, giving you the chance to judge your own voice quality.
App Downloaded From Wrong App Marketplace
If you have downloaded the app from an App Marketplace other than the one specific to your device, this will lead to an account suspension. It is against the terms of service to use a side-loaded version of any Fongo app.
Please ensure that you get Fongo apps from the correct marketplace:
Amazon App Store - All owners of Kindle Fire devices
Google Play - Any Android device with Google Play services installed
Apple Appstore - Any iOS, iPadOS, or MacOS device
Huawei AppGallery - An additional option for Huawei devices
Samsung Galaxy App Store - An additional option for Samsung devices 
Firewall Restrictions/Public WiFi
If the network you are connecting to is blocking VoIP communications, you may either need to accept the terms and conditions of the public network or you may need to bypass the firewall restrictions by using a VPN service such as TunnelBear (free) or NordVPN.
Uninstall + Reinstall App
In some cases, reinstalling the app after deleting it can fix issues. Make sure to accept all permission requests when logging in for the first time.
Android
Check The Following in System Settings
Enable 'Show Notifications' for Fongo, under 'Notifications'> enable ALL 'Fongo' notifications.
Disable 'Do Not Disturb' mode or quiet time schedule, under 'Notifications'> 'Do Not Disturb'
*tap the text to go into detailed settings*
Disable any battery saver or lower power mode.
Enable 'Display over other apps' or 'System alert access' (not available on all android devices)
Enable 'Data usage permissions' for 'Mobile Data', 'Wi-Fi' and 'Background Data'
Battery Saving Apps and Systems Interfering
Exclude any battery saving apps or systems from affecting Fongo Mobile on your device.
Depending on manufacturer, there may be multiple settings with different names such as
Battery Saver
Battery Manager
Battery Optimization

short-cut to this device setting can be found in the Fongo app settings called "Battery Optimization"

App Standby Optimizer
Ultra Battery Saving Mode
Duraspeed (

either whitelist Fongo from the DuraSpeed, or disable it completely.)
If you are able to exclude Fongo from any of these battery saver/optimization settings, this will help with connectivity. 
In addition, try the "Additional Battery Recommendations" button in the in the Fongo app settings. This will provide some settings that Google recommends to prevent the device from putting the application in a sleep state.
This website provides specific suggestions for most many android devices: https://dontkillmyapp.com/
Not Allowed To Show Incoming Call Screen
In certain versions Android, you may need to enable a setting that allows Fongo to display the incoming call screen overtop other apps on the system.
Tap Account
Tap Settings
Tap System Alert Access
Enable 'Draw over other apps'
This setting is not available on all Android devices.
Custom Android Operating System
Fongo apps are not supported on custom android operating systems (custom ROMs). Only official android operating system versions from the device manufacturer are supported.
Wi-Fi off during sleep (System-Wide)
If you are missing calls while on Wi-Fi, open the Android system settings and go to Wi-Fi, then hit the menu button (3 dots on bottom right) and select "Advanced". From there, ensure that "Keep Wi-Fi on during sleep" is set to "Always". Enabling this setting will use more battery but will make incoming calls come in more reliably.
Wi-Fi Lock (In-App)
We have been made aware that some Android devices do not wake up on incoming signals on their Wi-Fi connections. We have implemented a work around in the app for these Android devices that prevents the Wi-Fi radio from falling asleep. Enabling this setting will use more battery but will make incoming calls come in more reliably.
Preform the following in Fongo to enable 'Wi-Fi Lock'
Select The Menu Button
Select Account
Select Settings
Enable The 'Use Wi-Fi Lock' setting
Additional Settings For Users With Xiaomi Devices with MIUI
In your Xiaomi phone settings:
under Apps > Permissions > Other Permissions > Fongo

Enable 'Show On Lock Screen' for Fongo
Enable 'Display pop-up window' for Fongo
Enable 'Display pop-up windows while running in the background' for Fongo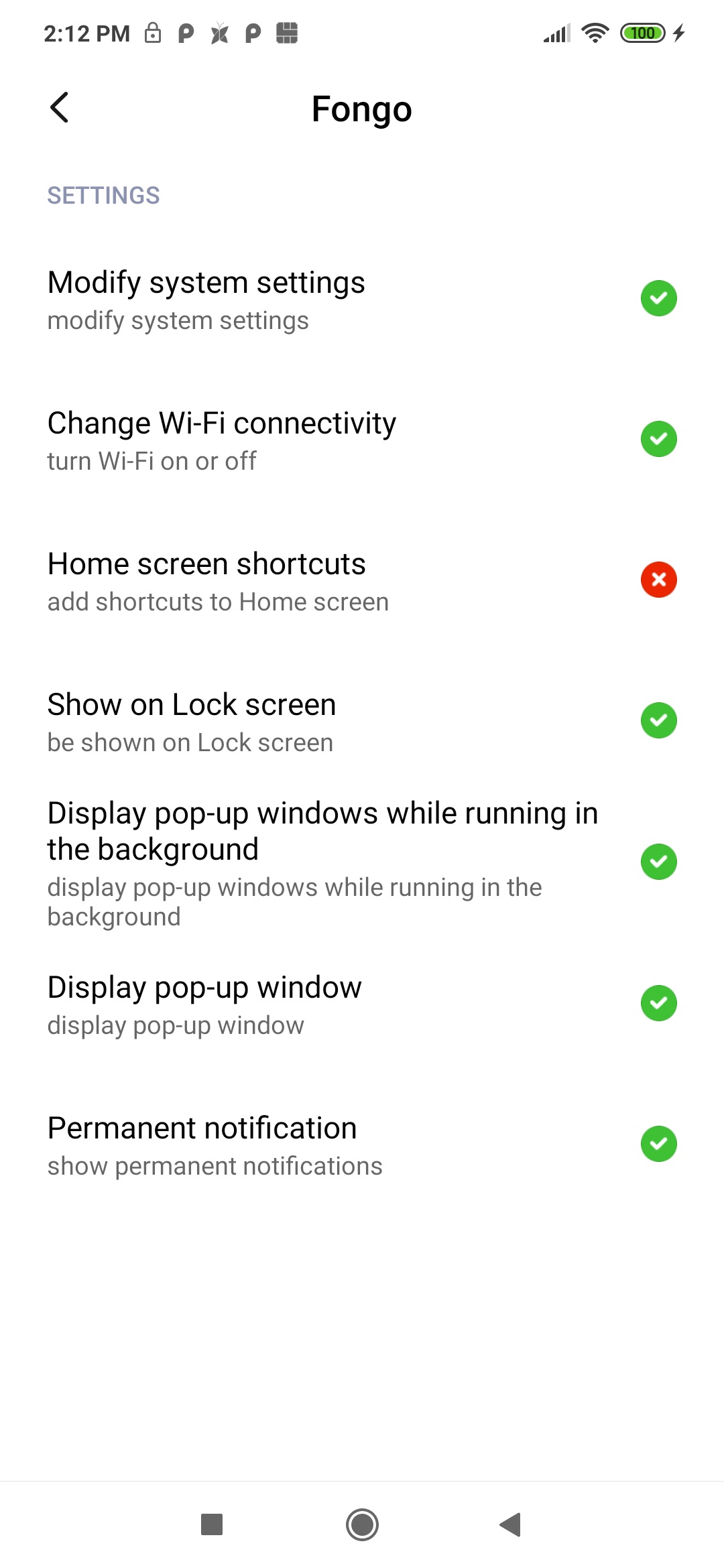 iOS
Push Notifications Not Enabled
You must allow Push Notifications for Fongo Mobile to receive incoming calls when the app is not in the foreground.
Perform the following to enable push notifications:
Launch the Settings app
Select Notifications
Select Fongo
Match The Following Settings

Background App Refresh Is Disabled
To receive calls in a timely manner we recommend allowing Fongo to run in the background so that it can keep it's connection to the Fongo servers open. 
Perform the following to enable Background App Refresh
Launch the Settings app
Select Background App Refresh
Enable the Background App Refresh setting
Enable the Fongo-specific setting below
Apple Watch
You are not able to make/receive calls nor receive incoming call notifications on your Apple Watch at this time, due to iOS restrictions.