Making outgoing calls to anywhere outside of Canada and American border cities will require international calling credits on your account. Fongo offers low international calling rates with 2¢ per minute to the United States, China, the United Kingdom and more with Fongo World Credits! Find out the rate for any number here.
Pricing
$5.49 - $5 World Credits
$9.99 - $10 World Credits
$19.99 - $20 World Credits
$49.99 - $50 World Credits
How To Purchase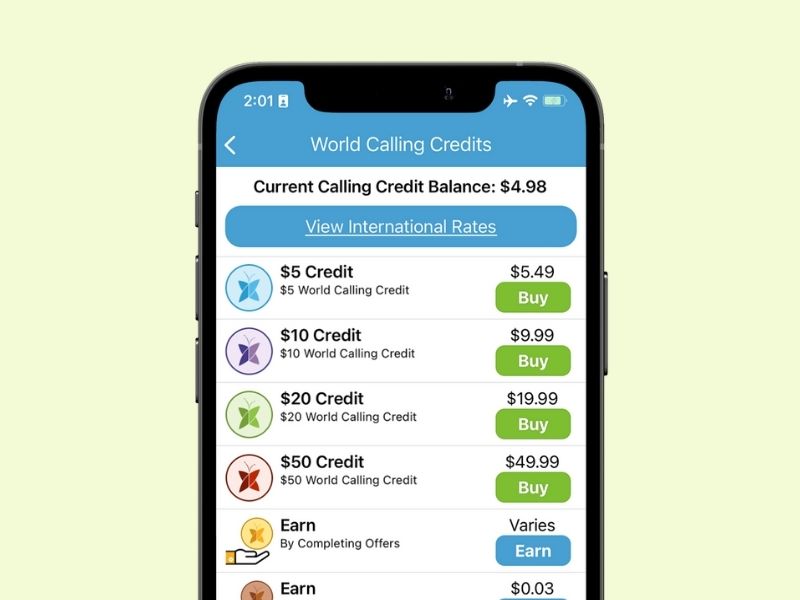 In App
Tap the shopping cart
Select World Credits
Choose World Credit amount
Online
Log in to your account
Enter online store
Choose World Credit amount
Earn Free Credits
Tap the shopping cart
Select World Credits
Tap Earn
Follow instructions
The remaining World Credit balance will display both on the home screen info tiles and by tapping Add-on Features, under World Credits your balance will display.
Expiry Of World Credits
World Credits will never expire as long as you use the Fongo Mobile App to place a successful outbound call once every 60 days to keep it active.
This call must be answered by the other party to count as successful
Forwarded calls through your number do not count as a call
World Credits will be expire at a rate of $1.00 in World Credits, beginning on the 60th day of inactivity (when the account is considered dormant), and additionally every 30 days after that. Learn more about Fongo Mobile's dormant policy.